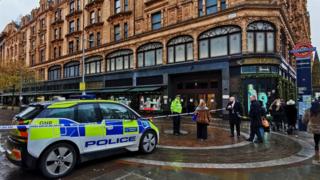 Three men have been stabbed to death in London in little over 12 hours.
Exauce Ngimbi, 22, was attacked in Hackney, east London, on Thursday afternoon and four people have been arrested on suspicion of murder.
Overnight, Muhammed Abdullah Al Araimi was killed near Harrods in Knightsbridge, while another man was killed in Deptford, south-east London.
The deaths mean 136 murder investigations have been launched in the capital this year.
It is the same amount as during the whole of 2018.
Mr Al Araimi, 26, was found unconscious near to Harrods just after midnight after police had been called over reports of a stabbing.
He was treated by paramedics but pronounced dead at the scene at 00:39 GMT.
Another man was found injured and taken to hospital "in a serious condition", police said.
Harrods said the store was open as usual but some entrances into the building had been closed due to the police cordon.
Emergency services were also called to Bronze Street, Deptford, at 03:00 GMT after another man was fatally stabbed.
Crosslom Davis, 20, has been named by the Met Police as the victim.
No arrests have been made over either of the overnight killings and the Met have appealed for witnesses.
Detectives believe Mr Ngimbi, who was killed in Clarence Mews in Hackney, died following "an altercation involving a group of people".
A 14-year-old boy is among the four people to have been arrested and has been taken to a police station, the Met said.
Two 26-year-old men and a 23-year-old man have also been arrested on suspicion of murder.